---
In our ongoing Designer Spotlight Series, we talk with interior designers and architects to see what inspires them, and get insights to how they approach creating beautiful spaces. In this Spotlight we talk with PFG Interiors and find out a little bit more about their business and experience.
Stikwood: How long have you been in business as an interior designer?
PFG Interiors: We have been in the business for 30+ years. PFG Interiors was started in May 2019.
Stikwood: Tell us a bit about your business and experience:
PFG Interiors: Both Diane and I were with another design firm for 27 and 24 respectively. Starting our own firm has been very rewarding and challenging at the same time. We specialize in Model Home merchandising and clubhouse, amenity and event centers/venues interior design.

Stikwood: We love how you incorporate personality into the rooms you design. Tell us how Stikwood helps you achieve that.
PFG Interiors: We knew we wanted a wood wall behind the bed with rustic texture, charm and warmth. We also knew that this model did not have the budget to give us a reclaimed wood wall. Stikwood in Hazelnut was the perfect solution; it offered character, easy installation, and it was easy on the builder's budget.
Stikwood: What would you say is your "signature style"?
PFG Interiors: Since we specialize in model home merchandising, we have to know what the demographic of the buyer is. We target our models to that buyer and that helps builders increase sales! We've learned over the years to be flexible with design so that we can give our clients the look that their buyers want and the look the builders need to be successful.
Stikwood: What was your favorite project using Stikwood products? What made it so special?
PFG Interiors: The Sand Dollar model shown here is our first venture with Stikwood. It has been a great experience because we were able to create an exciting Master bedroom that everyone loves.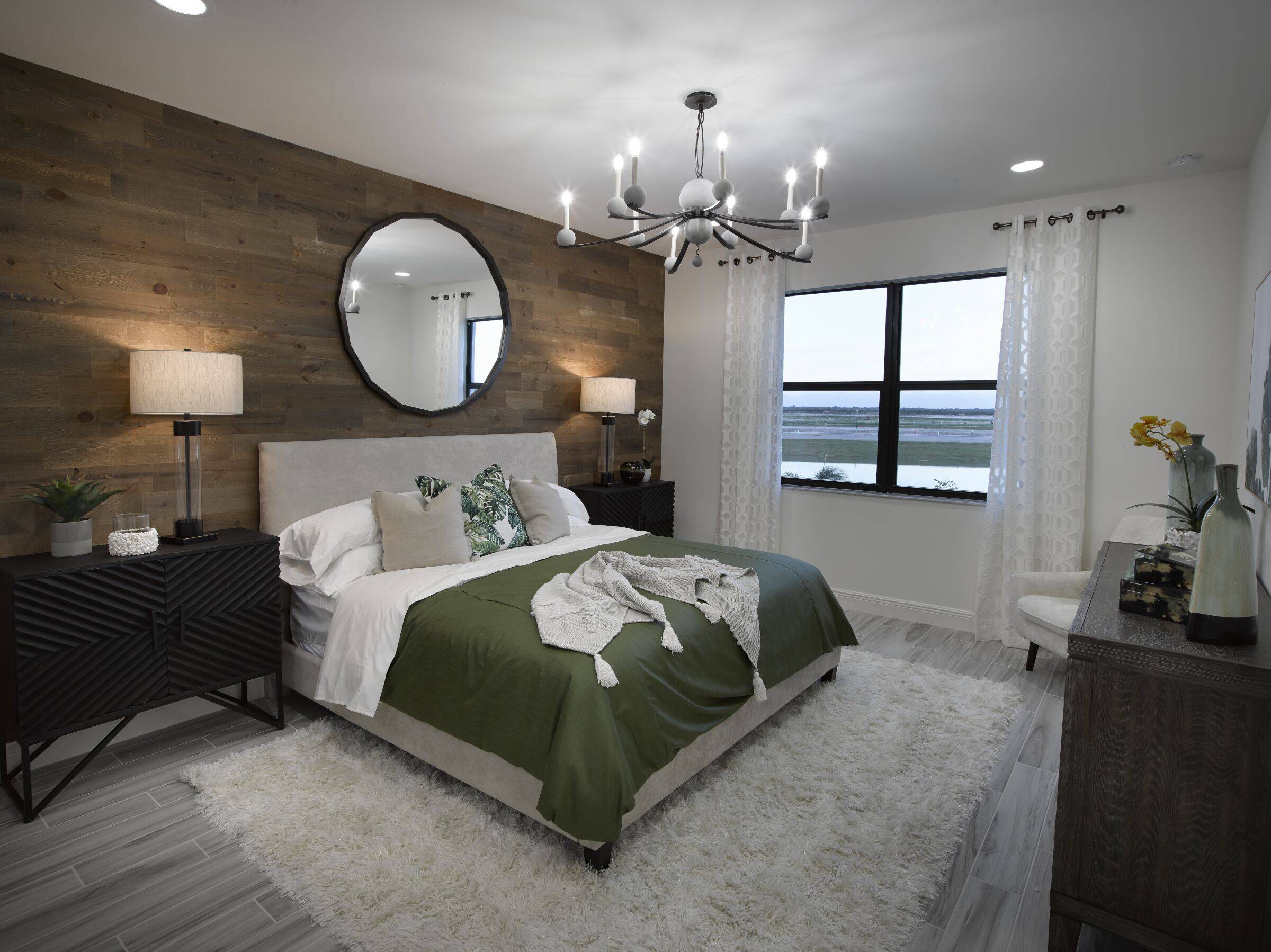 Stikwood: What is your best piece of advice to offer someone who wants to redecorate a room on their own?
PFG Interiors: You need to find a starting point. For us, it is usually a mood shot or a collection of fabrics that begin the inspiration. And don't let that "expensive mood shot" scare you away. We love the challenge of taking an expensive look and making it happen on a shoestring budget!
Stikwood: Where can people go to find out more about your services?
PFG Interiors: Our website has information about our services along with photography of most of our finished models. Visit www.pfginteriors.com for more information or call Patti at 407-718-5888.
Learn more about PFG Interiors.

You can learn more about PFG Interiors by checking out their website: pfginteriors.com
Join our Trade Program!
If you're a design loving residential designer interested in product discounts, free samples and more, check out our trade program.