It's that time of year again... Everyone's ready for spring cleaning, itching to revamp the house and start up fresh DIY projects. But who are we kidding… Stikwood is perfect for any time of year! For those of you scratching your head right now wondering what Stikwood is all about, I'd like to welcome you to your new obsession. We'll have your head swimming with ideas and ready to get started in no time with the endless possibilities of Stikwood's peel and stick shiplap. 
Peel and Stick Shiplap Appeal
You've probably found your way here because at some point you've seen or heard about shiplap; the gorgeous look that has taken over interior design. So what is shiplap? Picture a beautiful rustic building or a barn you've passed by with charming character. Chances are, what caught your eye was the style created by shiplap method. To achieve this look, grooves are cut into the top and bottom of long wooden planks. These grooves (or rabbets) allow the planks to fit together with a slight overlap. Originally, shiplap was designed in this way to ensure stability and strength; enabling the boards to form a water-tight seal. This was hugely beneficial when building barns and sheds. You may have also seen shiplap creating a very subtle space between each piece, which has become the desired effect you've been eyeing.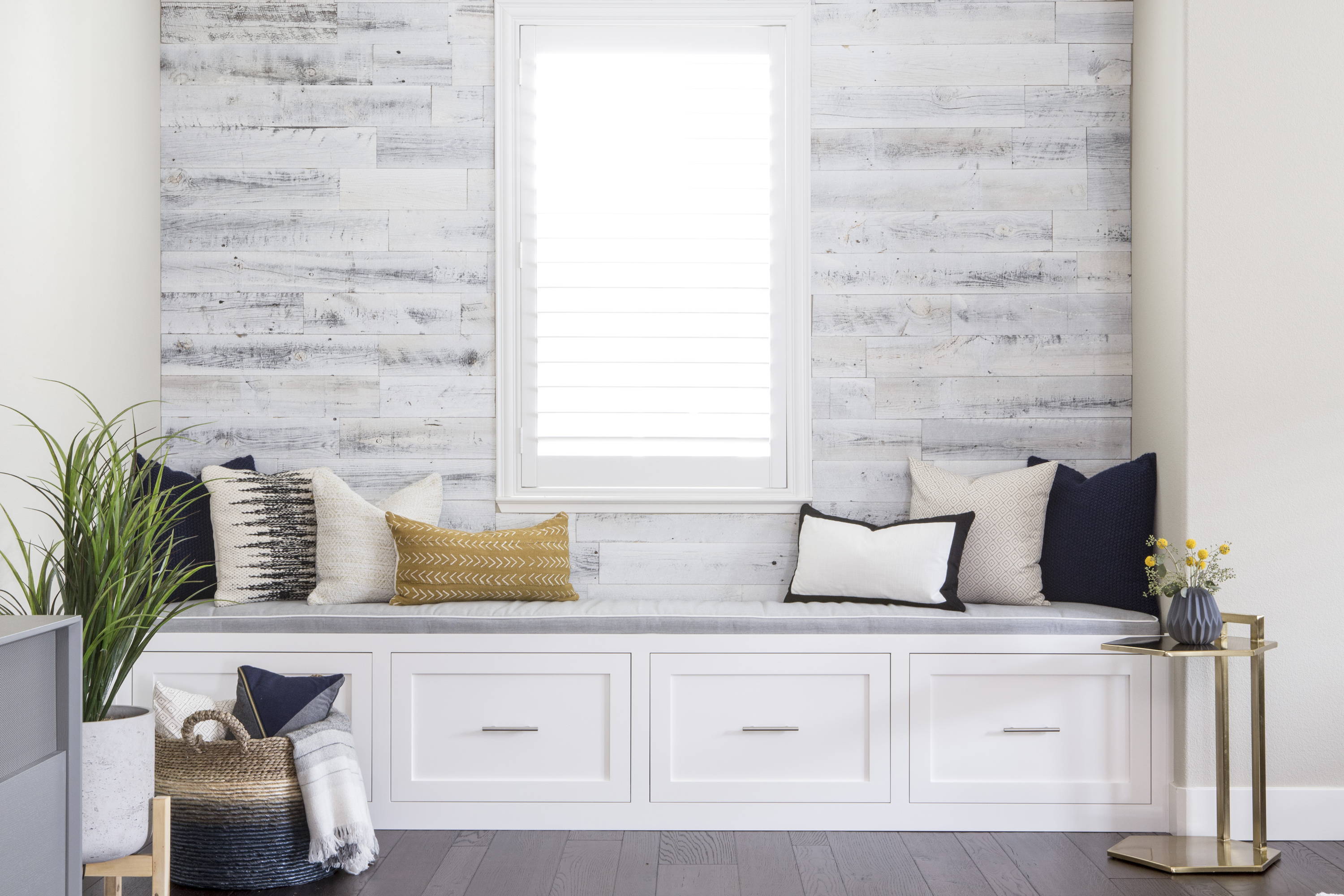 Stikwood Reclaimed Wood Planks
Stikwood is an interior design dream come true. A creation born from the belief that design can be resourceful as well as beautiful, the first Peel and Stik reclaimed wood was introduced to the world. While offering the shiplap look and feel, Stikwood provides an incredibly simple way to install this desired look. Stikwood panels utilize reclaimed wood and sustainable wood planking responsibly sourced from the US. These planks are easy to size with a handy utility knife or saw, while the self-adhesive back means no need for a messy weekend!
With Stikwood, you'll love the endless possibilities for creating your peel and stick shiplap look. Design an airy cottage white weathered wood look or go with the stunning charred appeal of the Japanese-inspired Charcoal Stikwood. Then choose vertical, horizontal, or any number of patterns when you're ready to plan your layout. Stikwood can create the illusion of a larger space, add a focal point with an accent wall, or completely change the aesthetics of your entire room with all walls.
No Limits with Peel and Stick Shiplap
Remember those endless possibilities I mentioned? Stikwood can be easily applied to your ceiling, fireplace, and furniture pieces. It's so versatile you can apply it as your new backsplash, headboard, or bring new life to doors throughout your home. Our inspiration section is full of creative ways our customers have transformed their own spaces. There are no limits to what you can achieve with Stikwood.
How to Install Peel and Stick Shiplap
Ready to bring peel and stick shiplap look to your space? We've made it easy for you to browse through our options by look, use, and material. Now the hardest part is for you to choose the style that brings your vision to life. Don't forget to send us images of your transformed areas when it's finished! Let's get shopping!